Administrator Quick Start¶
Overview¶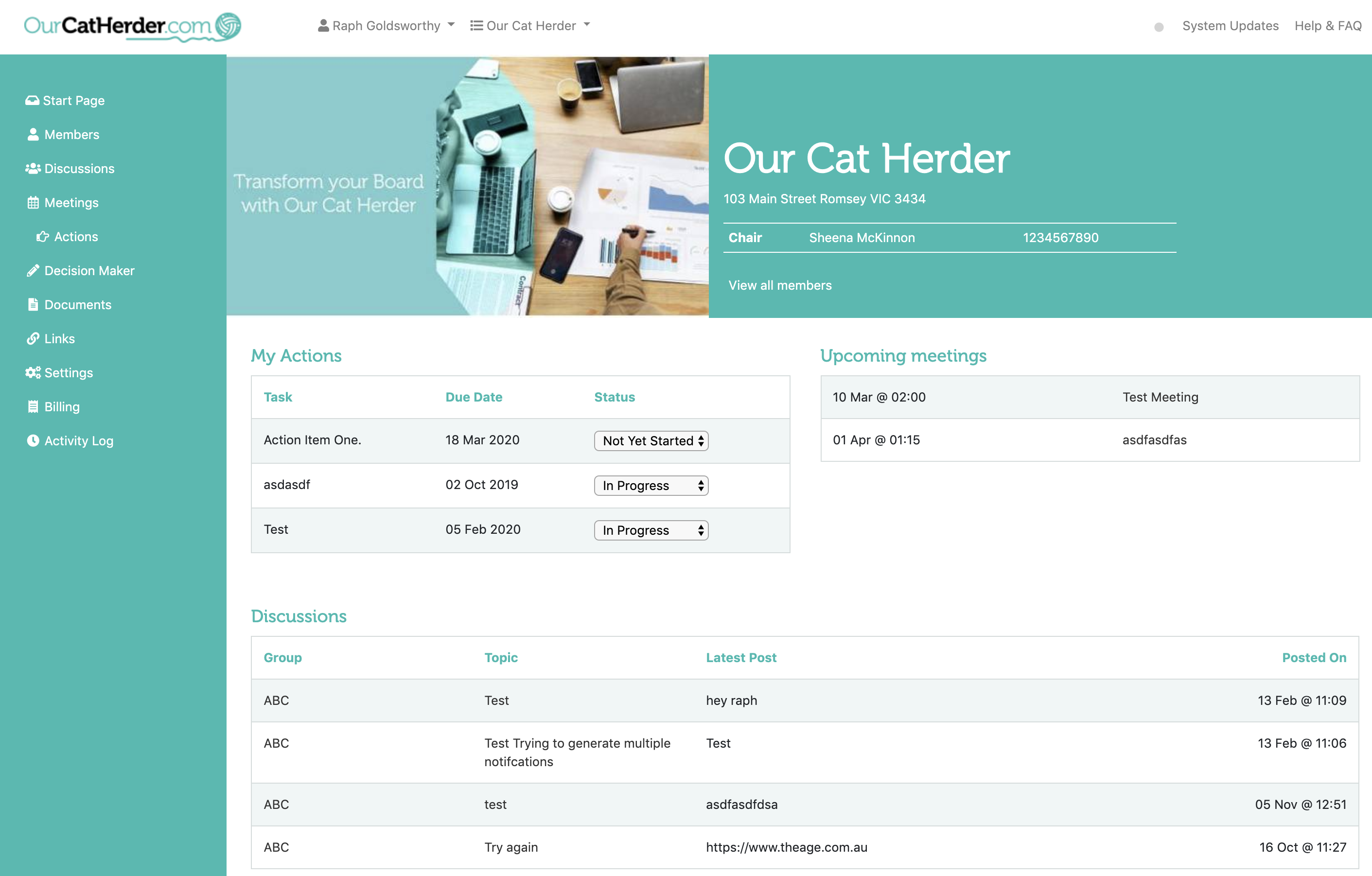 This section provides a quick overview to get you acquainted with Our Cat Herder from the perspective of a portal administrator. For more in-depth details on Our Cat Herder check out the deep dive section. Portal administrator's have access to more features than regular users.
For general portal members please click here for a short quick start guide.
Our Cat Herder is focused on providing you with the tools to streamline your meetings and your governance.
Menus¶
When you first login to Our Cat Herder you will find two menus available to you:
The left hand green menu provides access to 95% of Our Cat Herder's functions. It is focused on helping you navigate the specific portal you are currently using.
The top menu provides access to your user details, change password functionality, access to other portals you are a member of and ability to create a new portal.
Green Menu¶
You will find the following areas available to you in the left hand (green) menu:
Below is brief overview of each menu item.
Start page¶
The Start page is the first page that users will land on when they access your portal.
Here they will get an overview of activity on the portal that they need to know about.
It will show Actions, Upcoming Meetings, Discussions and officer holder details.
For more details on the start page click here.
Members¶
The members page is where you manage people who have access to your portal. You can invite them to access it and assign roles. Roles drive access to various parts of Our Cat Herder.
For more details on the members page click here.
Discussions¶
Discussions is the area of Our Cat Herder where you and your users can discuss different topics. You can create separate areas for different discussions and permission access to each.
For more details on discussions click here.
Meetings¶
Meetings is utilised to create, run and manage all your meetings.
Once you create a meeting you will be able to access the Agenda Builder for that meeting, add meeting attachments, build meeting packs, take minutes and assign actions and more.
For more details on meeting functionality click here.
Actions¶
Actions allows you to more easily view and navigate through actions you or members have been assigned through meetings. The Actions page will be blank until you have run a meeting and assigned actions.
For more details on actions click here.
Decision Maker¶
The Decision Maker is a tool for board members to vote between meetings.
You can create a new proposal for voting, add additional attachments and documentation and invite members of your portal to vote.
Once a proposal is created you cannot edit it. But you can invite more people to vote.
For more details on decision maker click here.
Documents¶
Documents is a basic document storage area for you to store important documentation your board needs access to. Which might include Strategic Plans, Policies or Procedures etc...
For more details on documents click here.
Links¶
Links is utilised for storing web links to external websites and reference material.
For more details on links click here.
Settings¶
Settings is where you can adjust the settings of your portal.
For more details on settings click here.
Billing¶
Billing allows you to manage your subscription payments.
For more details on billing click here.
Activity Log¶
Activity Log allows you to see a variety of actions your users are undertaking while using your portal. Giving you some deeper insights into specific portal activity.
For more details on activity log click here.
Top Menu¶
You will find the following areas available to you in the top menu:
YOUR NAME¶
My Details¶
This link will take you to a page where you can update your details, manage some viewing settings and enabled two-factor authentication on your account.
For more details on my details click here.
Change Password¶
This link will allow you to choose a new password.
For more details on change password click here.
Logout¶
This link will log you out of the entire Our Cat Herder system.
For more details on user sessions click here.
YOUR ORG NAME¶
Any other portal's you are a member of will be listed here.¶
New Organisation...¶
This link will allow you to create a whole new portal.
For more details on multiple portals click here.
System Updates¶
This link provides you with information on recent changes and updates to the Our Cat Herder system. We make regular updates based on user feedback. We welcome your suggestions for how we can improve Our Cat Herder to better meet your needs. Please email support@ourcatherder.com with your suggestions.
Help & FAQ¶
This link will being you directly to this help documentation. If you can't find what you are looking for remember you can also email support@ourcatherder.com for advice.
Updated: 05 March 2020